USA TODAY analysis 2
USA TODAY analysis: America's coronavirus 'curve' may be at its most dangerous point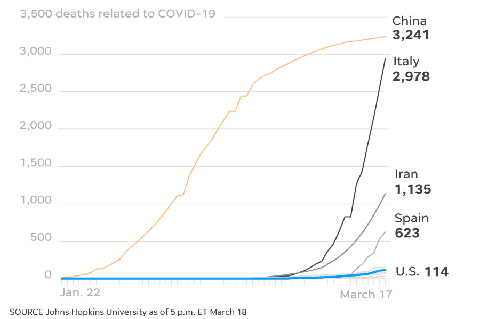 "The extent to which we can prevent direct and excess deaths depends on how quickly we can flatten the outbreak, mobilize health services, and for how long we can prevent a relapse," said Robert Muggah, founder and director of the Brazil-based security think tank Igarape Institute and a leading expert on risk, who studies pandemics.

Estimates vary, but most public health experts believe that the U.S. is between one and two weeks behind what has befallen Italy, where a near-total lockdown has been imposed on 60 million citizens, with only supermarkets and drug stores open to the public. As of Wednesday, there have been more than 31,500 cases and 2,500 deaths.

Italian authorities began enforcing their lockdown on March 12, some 18 days after the point where community transmission, defined as more than 100 cases, had taken hold, according to World Health Organization data analyzed by USA TODAY.

It's too early to say whether restrictions in Italy, and similar ones in Spain, are working.

Collins said that if the U.S. takes measures that many Americans might find overly drastic "we should certainly be able to blunt" the U.S. curve. "But let's be clear: There's going to be a very rough road ahead of us over the next weeks and months."

In the U.S., 115 people have died amid more than 7,300 confirmed cases as of Wednesday, according to Johns Hopkins University's data dashboard.

There has been no federally mandated lockdown in the U.S., and access to testing has been sporadic, although President Donald Trump has urged Americans to refrain from gathering in groups of more than 10 people. San Francisco on Monday became the first U.S. city to order its residents to stay home over the coronavirus outbreak.

In China, where COVID-19 originated, the outbreak followed a pattern similar to Italy's.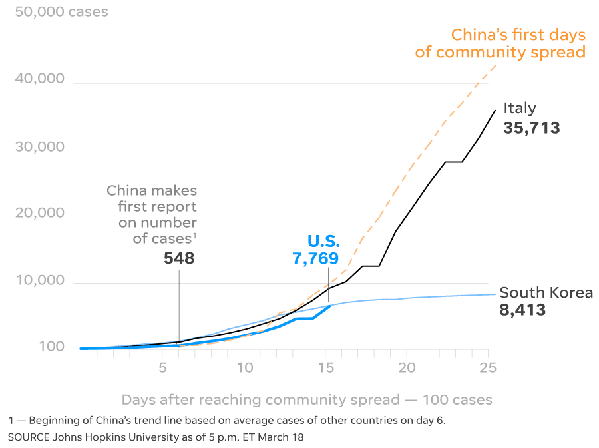 The country initially saw an exponential rise in infections.

Beijing ordered a complete lockdown in Wuhan and other cities in Hubei province on Jan. 23, about halfway into the first 25 days of reported community transmission.

Yet after authorities embarked on one of the largest mass mobilization efforts in history, closing all schools, forcing millions of people inside, quickly building more than a dozen vast, temporary hospitals and meticulously testing and tracing anyone who may have encountered the virus, Beijing has appeared to all but eradicate new cases.

Wednesday, China's National Health Commission reported just one new case in Wuhan for a second consecutive day and the country has slowly started to re-open schools and workplaces in some areas. Its death toll stands at 3,200, with over 81,000 infections.

No one knows whether a second wave of infections will occur amid the easing restrictions.

In South Korea, which has a robust screening program, with more than 200,000 people tested – about one in every 250 people – testing is fast (about 10 minutes) and free (the government pays) and the results are usually sent by text within 24 hours. It was the first country to roll out a drive-through testing center and has a well-functioning virus-contact-tracing system. It hit 100 cases on Feb. 20, but unlike China, Italy and other European countries it managed early on to "flatten the curve," or spread out the number of its coronavirus cases over a longer period so that its health system can have time to mitigate the outbreak's impact, according to the World Health Organization data.